Documentary : Modern Living

Let's Watch and Hear All in Japan! | Discovering Japan | Jewels of the Seto Sea | Second Life | Japan : On-the-Spot Reports | Find Your Dream Career | Grand jete | 20s Discovering Life | Cute Little Japanese Designs |
DC241649

鍛冶職人 [NHK]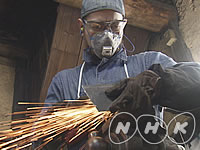 |Length : 24min |Year : 2016 |
Akiotacho is the least populous town in Hiroshima prefecture. Here, in his workshop along the local shopping arcade, 29-year-old Kazuyoshi Akita silently pounds metal. He moved to the town four years ago to open a smithy. Though he attended art college with the dream of becoming an artist, it was in one class that he realized how the most beautiful items must also have practical uses.
Having already decided to craft tools instead of artworks, Akita found an online article about a blacksmith who was looking for a successor before he went out of business. Picking up the mantle, he inherited tools, a workshop, and a client list, setting up his own business without investing any money at all. Every product, mostly consisting of farming equipment like hoes and machetes, is made to order. And despite concerns about his fluctuating income, Akita finds pleasure in working with his beloved metal.
DC241648

銭湯店長 [NHK]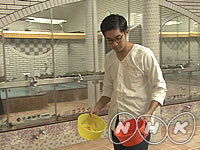 |Length : 24min |Year : 2016 |
25-year-old Yusuke Minato recently took over the management of an 80-year-old bathhouse in Kyoto. A love affair with Japan's public baths that began while he was at college has since seen him visit more than 600 nationwide. After graduation, his interest in fashion initially led to a job with a clothing firm. But he quit to take over the historic bathhouse in a bid to stop such sites from disappearing.
What Minato loves most is the communication between strangers that public baths encourages. But along with a wealth of history the bath he is in charge of has a lot of equipment that needs repairing! The daily cleaning and collection of firewood is a lot tougher than he expected. But Minato's fierce desire to protect these public spaces helps him overcome such problems as he continues in his efforts to revitalize Japan's public baths.
A Chef Who Comforts the Soul and Empowers the Spirit
DC241647

一滴の向こう側 「いのちの料理人」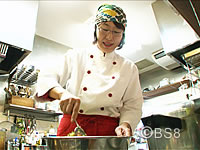 |Length : 25min |Year : 2016 |
Keiko Hondo is a catering chef who travels throughout Japan to prepare delectable meals. Her cooking comprises original menus that are made only with colorful vegetables. Many of her customers suffer from serious diseases. Whether healthy or ill, all her customers say they feel the joys of eating when they are served Hondo's dishes.She is described as "a chef of life". This is a human-interest documentary that shows the passion, the desires, and the dreams of people who continue to make challenges as they go after their dreams.
DC241547

横浜 ステキなコトハジメ [NHK]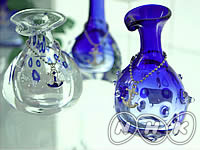 |Length : 29min |Year : 2015 |
Yu Kashii, a Japanese actress, heads to cosmopolitan Yokohama. In its 150 years as an international port, the city has been a trend-setting gateway for Western culture. Kashii grew up nearby, but is discovering many of the city's signature items for the first time, including porcelain, furniture, and scarves. Enjoy a stroll with her through chic shopping districts like Motomachi and the Red Brick Warehouse.
DC241546

京の布雑貨 [NHK]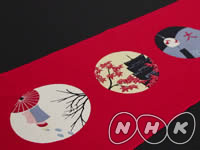 |Length : 29min |Year : 2015 |
Actress Tae Kimura visits Kyoto, where she visits the city's fabric dealers and gets a look at several traditional techniques. Kimura is captivated by the blend of ancient and modern, from handmade towels with pop-art patterns to antique textiles repurposed into chic new accessories. Finally, she goes to a workshop where you can make your own coin purse.