Documentary : Modern Living

Let's Watch and Hear All in Japan! | Discovering Japan | Jewels of the Seto Sea | Second Life | Japan : On-the-Spot Reports | Find Your Dream Career | Grand jete | 20s Discovering Life | Cute Little Japanese Designs |
DC320702

ドキュメント にっぽんの現場 | 町工場 ドリルガールズ [NHK]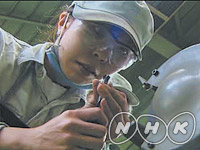 |Length : 29min. |Year : 2007 |
Despite possessing world class standards of technology, small urban factories are experiencing unpopularity with the young people of today and there is a shortage of new employees. Recently, however, they have been gaining a new female workforce, young women.This programme follows these spirited women who have taken the plunge into a man's world and shows their earnest approach to their demanding work.
DC320701

ドキュメント にっぽんの現場 | 虹を追う直売所 大分・日田市大山町 [NHK]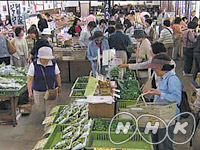 |Length : 29min. |Year : 2007 |
With annual sales of 15.7 million US dollars and 700 different agricultural and processed products on sale, the Oita Oyama-cho Agricultural Cooperative direct sales outlet on the island of Kyushu is said to be one of the most active local markets in Japan.Centered around this outlet, more and more farmers can now make at least 100,000 dollars in one year. This programme takes a close look at the outlet in action and the farmers who have come up with a variety of ideas for revitalization of their village.
Second Life | Fabulous Kites Take to the Skies
DC300305

自分流で輝く | 世界にあがれ 夢の凧 [NHK]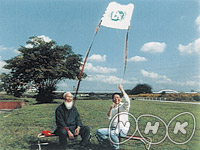 |Length : 15min. |Year : 2003 |
Shotaro Harada (70) flies huge and unusual kites high in the skies over the banks of the Yodo River in Osaka. Tiring of his job as a university professor of architecture, Harada left Yamagata for Osaka. Despite a brisk new start in Osaka, he became ill and had to stop working. As part of his rehabilitation, he picked up kite making, an interest he had pursued some years before, and after a bit of research decided to make kites without frames.
Second Life | All Aboard the Starry Night Express
DC300304

自分流で輝く | 走れ!夢の銀河鉄道 [NHK]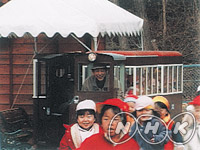 |Length : 15min. |Year : 2003 |
Setuo Mochimoto (74) runs a tiny but rid able railcar on 75 meters of track he laid around his house in Toyono-cho, Osaka. He opens his garden to the public for free rides on his train. His hand-built railroad, also carries the pleasant memories of trips with his late-wife. The Mochimoto recipe for building-fun is seasoned with hard work and great attention to detail. The results of his efforts are shared with everyone. He says "The best part of it all is seeing the happy faces of the children who come for a ride."
Second Life | A Feisty Housewife's Lovely Herb Garden
DC300303

自分流で輝く | パワフル奥さん 夢のハーブ園 [NHK]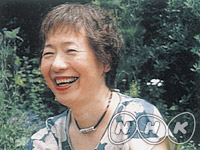 |Length : 15min. |Year : 2003 |
Ruriko Koshiba (57) operates a herb-oriented cooking and craft school in Kamo-cho, Kyoto. She was a very ordinary housewife until seven years ago. Then one day, with her children grown up and living on their own, she saw a Western-style house up for sale that sparked her transformation into herb grower. When she wanted to expand the business, she gave her husband, Hideo, a year to quit his job so that he could help her focus on herbs.