Documentary : Modern Living

Let's Watch and Hear All in Japan! | Discovering Japan | Jewels of the Seto Sea | Second Life | Japan : On-the-Spot Reports | Find Your Dream Career | Grand jete | 20s Discovering Life | Cute Little Japanese Designs |
Discovering Japan | Refining Traditional Wall-Building Skills
DC241959

それでも石を積みつづける [NHK]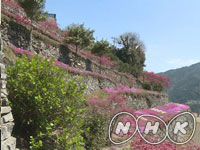 |Length : 34 |Year : 2019 |
Stone walls are part of the fabric of traditional Japanese scenery, especially in mountainous Shikoku in western Japan. Walls delineate fields, protect homes and support a rural way of life. But today, the expertise needed to maintain and repair them is in danger of dying out.
In college, Reo Kaneko, now 30, was charmed by the walls' functionality and simple elegance. He took on the challenge of learning traditional wall-building techniques and passing them on to the next generation. Quitting his job and moving to Tokushima, he set about making his living solely by repairing broken walls and teaching others how to do it.
However, the realities of marriage and a child are causing financial strain. He remains committed to living and working in rural Shikoku, while his wife works for a construction company in Tokyo. Can he find a way to build both walls and a family life?
Discovering Japan | Rice Ball Revolution ~ Farmers Pursing New Roads~
DC241858

おにぎりで革命を!~減反廃止・コメ農家はいま~ [NHK]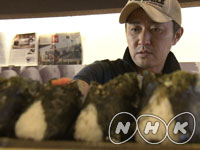 |Length : 34 |Year : 2018 |
Beginning in 1971, a Rice Acreage-Reduction Policy has been in effect in Japan for nearly 50 years. With the abolishment of this policy, farmers will be able to grow rice freely, but will lose subsidized funding that was provided by the government. As a result, many farmers are deeply concerned, not knowing where this development will lead. But among them, one farmer from Akita Prefecture is gathering attention: Takayuki Suzuki. Though not from a farming background, Suzuki has opened a chain of specialty shops selling rice balls made from rice he grew himself. Now, Suzuki is considered a prodigy in the rice industry y. A veteran farmer, Kenjiro Sato, assists him in his endeavor, placing his trust in Suzuki in order to protect the future of rice farming. As the times change, we explore the thoughts and struggles of these farmers as they work together to pioneer a way to live on rice.
Discovering Japan | High School Working Poor ~Beginning a New Journey~
DC241857

高校生ワーキングプア 旅立ちの春 [NHK]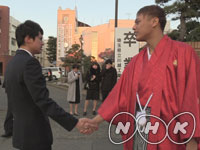 |Length : 34 |Year : 2018 |
Despite Japan's image as a wealthy economic power, there are Japanese children who live in relative poverty. In particular, "High School Working Poor" who must work to support their families are on the rise. One high school girl works day in and day out for her family's sake, giving up on going to college despite her high grades. Wishing to help her single mother raise her younger siblings, she's instead decided to pursue vocational school to work as a flight attendant. Meanwhile, two brothers have worked part-time jobs to support each other after the death of their single father. The older brother works during the day and attends evening school in order to protect his younger brother. To return the favor, the younger brother works part-time after school. In spring, with gratitude towards each other in their hearts, the two brothers finally graduate high school and get real jobs, taking their next step together into society. We follow the journeys of these high school working poor as they strive to move forward in life.
KANSAI WORKER ~The Contemporary Kimono Designer~
DC241756

よ~いドン!発見!関西ワーカー 和を楽しむスタイルを提案する着物デザイン・プロデューサー [KTV]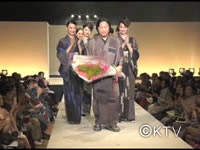 |Length : 21 |Year : 2017 |
The kimono is a traditional garment of Japan, and its culture is one Japan boasts to the world.
There is a man who unceasingly challenges himself to arrange the kimono in a variety of ways to make it blend into contemporary lifestyles. That man is kimono designer Jotaro Saito, who is the third generation owner of Sansai, an established kimono textile dyeing company in Kyoto.
Saito's designs are not confined to the realm of kimono fashion, as they are even used on furniture and lamps that adorn interiors of prestigious hotels. With his works, he continues to open up new possibilities for the kimono.
Although Saito's works are based on the traditional beauty kimono offer, Saito incorporates casual patterns to make the kimono fun for the wearer.
In addition to the use of such patterns, he has created stretchy kimono made of polyester and others that even feature metal studs by Swarovski.
In this program, comedic duo Rozan step inside the studio to take a look at the dyeing process. The two learn about the techniques involved, and marvel at the delicacy of the work involved. And then, they finally try out the dyeing process themselves.

Under Newton's Apple Tree ~The History Behind"Mori"Enhancements on the Faces of Japanese Women~
DC241755

ニュートンの木の下で~日本女性の顔における「盛り」の歴史とは?~ [CBC]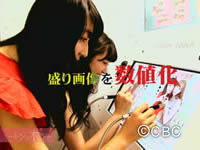 |Length : 23 |Year : 2017 |
Isaac Newton, the scientific genius who discovered the law of universal gravitation, said"My best friend is truth."
Since then, a number of researchers have put their own "truth" on papers.
They are called theses.
In this program, of the countless theses published to the world, we will introduce unique and innovative theses that may have even surprised Newton himself.
This talk show, hosted by Ryota Yamasato (a member of comedy duo Nankai Candies), invites the author of a particular thesis to the studio to dig into and find out more about their research and background story.
In this episode, we focus on Japanese youth culture.
Our guest this time is a researcher at the University of Tokyo, who studied "mori in photo sticker booths" that are popular among young girls.
She has quantified this "mori" for the first time in the world.
In addition, she has collected portraits of beauties throughout history to quantify their facial characteristics and investigate ideal faces admired by Japanese people.
What is the true value of Japanese culture found through her research?