Production Year 1993
Jizo Attracts People
DC279305

お地蔵さんが人を呼ぶ 三重・関町 [NHK]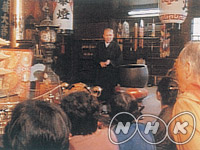 |Length : 28min. |Year : 1993 |
The Buddhist temple in Sekicho in Mie Prefecture has a long history. Dedicated to Jjzo, the popular guardian deity of children and rescuer of souls in torment, this temple may have been built as much as 1200 years ago, and has been in great need of restoration. When Kojun Miyamoto became Chief Priestess twelve years ago, she decided to make the temple one that everyone would be proud of. This is a heartwarming story of what a town can do when people all work together.
The Dance of the Lion
DC279306

大獅子が通る [RNC]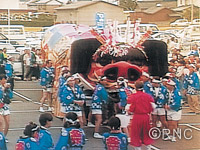 |Length : 28min. |Year : 1993 |
The shrines in Miki in Kagawa Prefecture have all performed the traditional shishi-mai or Lion Dance to drive out evil spirits. The single exception was Hikami Shrine. Then, a local man, Shigeki Kushida, decided to stage a lion dance for the shrine. He made the lion's "head", persuaded a cousin to decorate the fabric "body" of the lion, and drummed up community support. This interesting program shows how people working together can revive an ancient tradition.
I Can Feel the World in My Heart
DC289305

心に地球が見えてきた よしつぐの3日間 [RNB]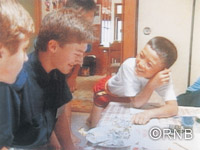 |Length : 27min. |Year : 1993 |
When Ivan and Alexei arrive to stay with his family for three days as part of a visiting Russian junior baseball team, fifth grade student Yoshitsugu suddenly comes face to face with a most contemporary problem: how to communicate with people who speak a completely different language and come from a much different culture with unfamiliar values. How Yoshitsugu learns to bridge the culture gap is the theme of very interesting program with relevance for everyone.
Thailand's Great Monk : Achan Kabesako
DC289306

タイの名僧になった男 アーチャン・カベサコ師 [TVI]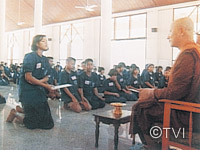 |Length : 28min. |Year : 1993 |
Archan Kabesako has founded a temple in Thailand, and works to help poor children, providing uniforms, scholarships, and even bicycles for children to go to school. Every year, he also has a camp for 300 students. Once he was a Japanese named Mitsuo Shibahashi, but now this hardworking monk is much more than that! His work has won him the respect of the local community, and receives support even from far-off Japan. He is a savior of children, and of the future.
A Boy From Africa – Remember Your Father's Native Land –
DC289307

アフリカから来た少年 忘れないでお父さんの国 [NHK]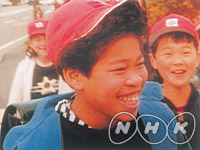 |Length : 44min. |Year : 1993 |
Baru's father is Nigerian; his mother, Japanese. Baru came to Japan to live when he was four. When he was eight, however, his parents decided he should use his spring vacation to visit Nigeria, and here in the land of his African ancestors, reestablish his sense of roots. Baru's diary tells us about life with his Japanese grandparents, and then his life with his parents and younger brother in Nigeria. Nigeria was a lot different from Japan, and things didn't go as expected.