Production Year 1995
Three Gorges Dam Project – A Journey Toward 21st Century China –
DC249511

三峡ダム大移住計画 113万人の故郷が沈む 中国21世紀への旅 [NAV]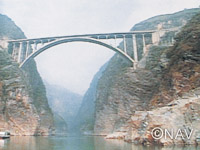 |Length : 56min. |Year : 1995 |
China is building the world's largest hydroelectric dam in the densely populated and historically significant "Three Gorges" region. Problems abound. More than 30,000 hectares of farmland and 13 towns and 140 villages will be submerged and the lives of more than one million people will change irrevocably. Besides being one of the most challenging engineering projects ever, this undertaking will require one of the biggest resettlement efforts in recent history.
Ryoji and His Fellow Travellers – 18 Years of a Blind University Student –
DC259511

良司君 旅立ち 全盲大学生18年の記録 [NHK]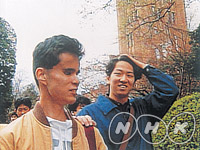 |Length : 44min. |Year : 1995 |
Ryoij Hoshika, 18, is totally blind. He is also a student at Japan's most difficult-to-enter and prestigious institution of higher education - Tokyo University. Despite his handicap Ryoji has always attended regular schools. Supported by family and friends - and especially by his warm-hearted mother - Ryoji has worked tirelessly to get ahead. Now, however, it is time to be independent and he has started to live on his own in Tokyo.
Along the Way – A Year of a Monk –
DC259512

道ゆきて ある僧侶の一年 [KTN]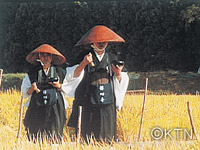 |Length : 48min. |Year : 1995 |
This documentary offers an interesting view of the spiritual side of Japan. It tells the story of Shinsuke Kaneko, a Zen monk and co-founder of Zenshin-ji temple. Drawing on what he has learned from his own battle with cancer, Kaneko gives regular lectures on Life and Death. We also see him tending his dying mother. Along with the Catholic Hospital in Nagasaki, Kaneko believes that it is not enough to just tend to the health of the body: the health of the soul is just as important.
Sican – The Mysteries of a Vanished Gold Empire –
DC289511

よみがえる黄金都市シカン [TBS]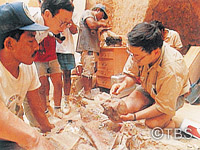 |Length : 59min. |Year : 1995 |
Izumi Shimada, a professor of archaeology, has devoted much of his life to studying a Pre-Incan culture whose secrets hide in an area of Peru known as the Batan Grande. Shimada hit pay dirt - literally - in 1991.- After 1000 days of tedious, painstaking work; he uncovered the largest gold tomb ever found in South America and many priceless artifacts. Shimada calls the religious empire that built the tomb, Sican - "Temple of the Moon" - and believes that other, even more impressive discoveries await.
Bridge between Two Cultures – For my son, Tsuyoshi –
DC289512

ツヨシ君に伝えたい フィリピン花嫁たちは今 [YTS]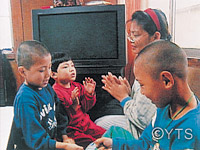 |Length : 26min. |Year : 1995 |
With fewer Japanese women wanting to live on a farm, Japanese farmers are looking overseas for brides. Mathilde, for example, married a man from Ohkura-mura in Yamagata and now has three children. Her oldest child Tsuyoshi has just started to attend school and is beginning to realize the social implications of having a mother from another country. This program raises important questions about the need to reevaluate traditional values in terms of contemporary needs.