Education

What and Why | Let's Tackle Scientific Problems | Junior High School Science | Only One Earth | Science Club | Whiz Bang Science | Maths Wonderland | Digital Pictorial Book - Nature in Japan - | Experiments Are Fun | Pythagora Switch | Pythagora Switch II | Pythagora Switch III | Pythagora Switch IV | Let's Get Movin' | Science Sleuth | ABU Voyage to the Future | The Science Station | We Love Science | Joule & Professor Watt | Wonderful Science | KIDS SURVIVAL SCHOOL | What Can We Do? Our Planet's Future | Listen to the Earth | The Power to Save Lives in Disasters | Let's enjoy Math with Barky the Dog | LIFE IS A CHALLENGE | Bravo to Music! | TAKE TECH | Gretel's Oven | Viewpoint Science | Story Land | Endless Wonders | TEXICO |
ED251401

同じおおきさにわけるには? [NHK]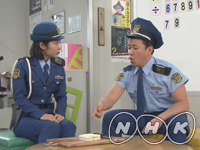 |Length : 10min. |Year : 2014 |
Children wish to share a cake, but are confused when Numbler cuts the cake into different shapes. Are the pieces equal in size? Barky uses the basics of fractions and geometry to prove that the pieces are indeed equal.
ED241403

ロボット開発で災害に備える [NHK]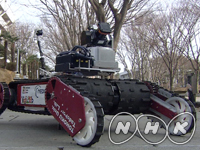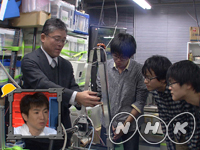 |Length : 10min. |Year : 2014 |
One means for dealing with disasters is the development of various robots to aid humans in disaster relief efforts. In this episode, we will see a helicopter-like robot, and a robot that entered the nuclear power plant after an explosion during the Great East Japan Earthquake, and more.
ED241402

東京消防庁・ハイパーレスキュー [NHK]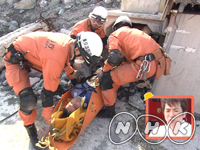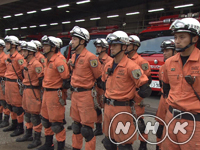 |Length : 10min. |Year : 2014 |
Tokyo Fire Department's Fire Rescue Task force, commonly called Hyper Rescue is visited at their training facility and the preparation and training of the team members are introduced. Commander Masatoshi Shimoyama talks about his first-hand experiences during the Great East Japan Earthquake, and gives his thoughts on what we should do after a major fire or earthquake.
ED241401

災害救助犬・指導手 [NHK]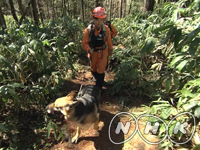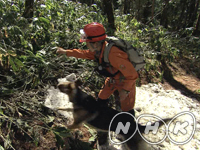 |Length : 10min. |Year : 2014 |
In a major earthquake, when buildings collapse or landslides happen, only human eyes may not be enough to find people needing rescue. This is where the excellent sense of smell of rescue dogs are needed. The camera follows rescue dog handler Shoko Furukawa and her dog teammate, Tae, during their training.
ED231711

河川氾濫に備えよう [NHK]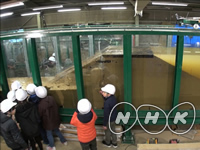 |Length : 10 |Year : 2017 |
In Japan, where roughly half the population is located in areas that are at risk of flooding, everyone should be aware of the risks flooding poses. We think about how to guard against a flood.